Donate to Team Reamsnyder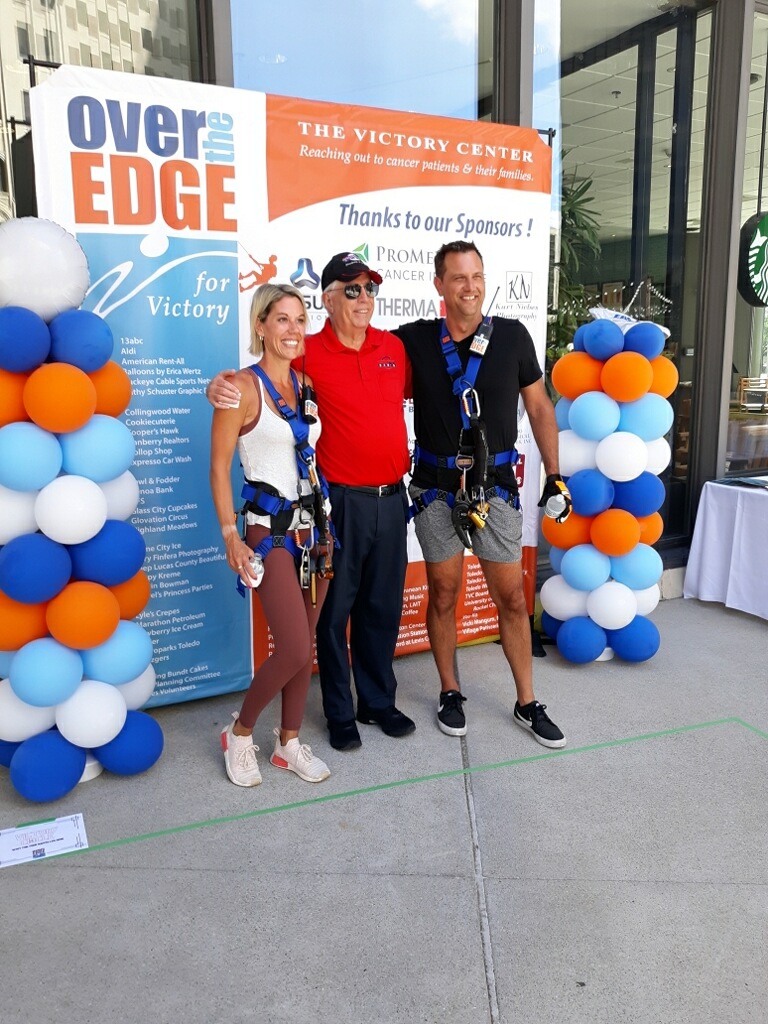 I was diagnosed with breast cancer in October 2020.  Throughout my journey, The Victory Center has provided me with support, stress relief, education, friendship, and so much more. You don't ever expect to need an organization like The Victory Center, but when you do they'll be waiting with open arms. 

I will be rappelling 16 stories on Friday, September 8, 2023 to raise funds and awareness for The Victory Center! 

Please consider making a donation to help fund FREE programs and services for newly diagnosed cancer patients, cancer survivors and their caregivers. 

100% of funds raised will stay in our community. 
Team Reamsnyder
Target

$10,000.00

Raised

$12,915.00

Progress

129 %
$50 donation provides:
2 soothing facials for a cancer patient
OR
1 group yoga class
$100 donation provides:
4 oncology massages for a cancer patient
OR
2 Healthy Steps exercise classes
$250 donation provides:
6 individualized counseling sessions
OR
11 therapeutic reflexology treatments
$1000 donation provides:
1 full year of a monthly support group
OR
5 art therapy classes
Team Donors
Dorman Products Corporate Match

$650.00

Duane & Linda Skrzyniecki
to Bryan Skrzyniecki

$100.00

Anonymous Donor
to Bryan Skrzyniecki

$25.00

Dean Houston
to Nicole Reamsnyder

$250.00

Jason & Emma Kaple
to Nicole Reamsnyder

$150.00

Anonymous Donor

$25.00




You go girl!!

Julie Michaelis
to Bryan Skrzyniecki

$50.00

Aeria Antuono
to Nicole Reamsnyder

$100.00




My admiration for your strength and hard work!! so happy for you and Chris!

Kelly Steffenhagen
to Tracey Newman

$25.00




DON'T SHIT YOUR PANTS #ChristinaStrong

Bob Ingham

$50.00

Suzanne & jb Rorick

$200.00




Go Nicki!!! (And Chris!)

Suzanne Charkosky

$25.00




To Tracey Newman. In loving memory of Christina Smith.

Shannon Saurer
to Tracey Newman

$50.00




In honor or Brian ?? Love, Sissy

Dawn NekicH-Pampush
to Tracey Newman

$100.00




In memory of my amazing daughter in law, Christina Smith.

Thomas Moore
to Tracey Newman

$50.00

Pauline Niznik
to Tracey Newman

$50.00

J. Vicente Poblete
to Tracey Newman

$50.00

Chris Reamsnyder

$500.00




Lead the way Nicki, I'll follow you... love you!

Teresa Mills
to Nicole Reamsnyder

$20.00

Angela Wayman
to Tracey Newman

$15.00




You go girl!

Trish Berry

$100.00

Mike Mcgrew
to Nicole Reamsnyder

$250.00

Layne Gobrogge
to Nicole Reamsnyder

$50.00

Mark Marutiak
to Nicole Reamsnyder

$50.00

Timothy Phillips
to Nicole Reamsnyder

$30.00




Good luck!

Steve & Brenda Pohlmam

$100.00




We support Chris and Niki!

Carrie Skrzyniecki
to Bryan Skrzyniecki

$50.00

Kimberly Stewart
to Tracey Newman

$25.00




In honor of Stina

Reed Reamsnyder

$100.00




Our Nicki who is strong and courageous. Inspiration to us all!

Mark Miller
to Nicole Reamsnyder

$100.00

Sandy And Dave Witt

$100.00




Remembering Sharon and Celebrating Nicole

Karen Kovach
to Bryan Skrzyniecki

$25.00




In honor of Sharon Skrzyniecki

Randal Skrzyniecki
to Bryan Skrzyniecki

$100.00

Julie Skrzyniecki
to Bryan Skrzyniecki

$100.00




In memory of Sharon Skrzyniecki

Chris Russell
to Bryan Skrzyniecki

$50.00

Heather Patacca
to Bryan Skrzyniecki

$100.00




Remembering Sharon!

Joanne Crandall
to Bryan Skrzyniecki

$25.00

Adam And Jennifer Drake
to Bryan Skrzyniecki

$25.00




In memory if Sharon Skrzyniecki

Thomas Carney

$250.00




Thomas Carney to Marc Karon

Marsha Sanders

$500.00




GO MARC!!

T Moralas
to Marc Karon

$100.00




Good luck Marc

Bea Cosby
to Marc Karon

$500.00




So proud of you!

Wendy Johnson
to Nicole Reamsnyder

$50.00




WE love you Nicki! Enjoy your day??.

Thomas Ennis
to Marc Karon

$100.00




Go Geezer Golfer!

Kelley O'donnell

$100.00

Angelo Volpe
to Marc Karon

$250.00




Good luck Marc! Great cause!

Anonymous Donor

$25.00

Eric Call
to Marc Karon

$50.00




Go get 'em, Marc

Karen & Kevin Rohrs
to Nicole Reamsnyder

$200.00

Chris Boesel

$100.00




Great team…Great cause! I'll see you there!

Todd Cardello

$100.00

Janell Toth

$50.00




You've always been my inspiration

Tina Hubbard

$100.00




Great Cause - go Nicki!

Jerry And Sandy Miller

$200.00




Go Nicki! with cheers and prayers for Victory as this year you are choosing to go both up and down.

Brad Croce

$500.00

Larry Dolan

$100.00




I am a cancer survivor

Sarah Warner

$50.00




Great cause!

Jordan Peterson

$100.00




Great cause!

Victoria Mackeigan
to Tracey Newman

$50.00

Cathy Stiles

$50.00

Mark Bagnall

$100.00




Go Team Reamsnyder!

Marc Karon

$2,500.00

Daytol Parts

$350.00

Dorman Products, Inc.

$2,500.00

Jac Reamsnyder
to Nicole Reamsnyder

$50.00




????

Anonymous Donor

$25.00