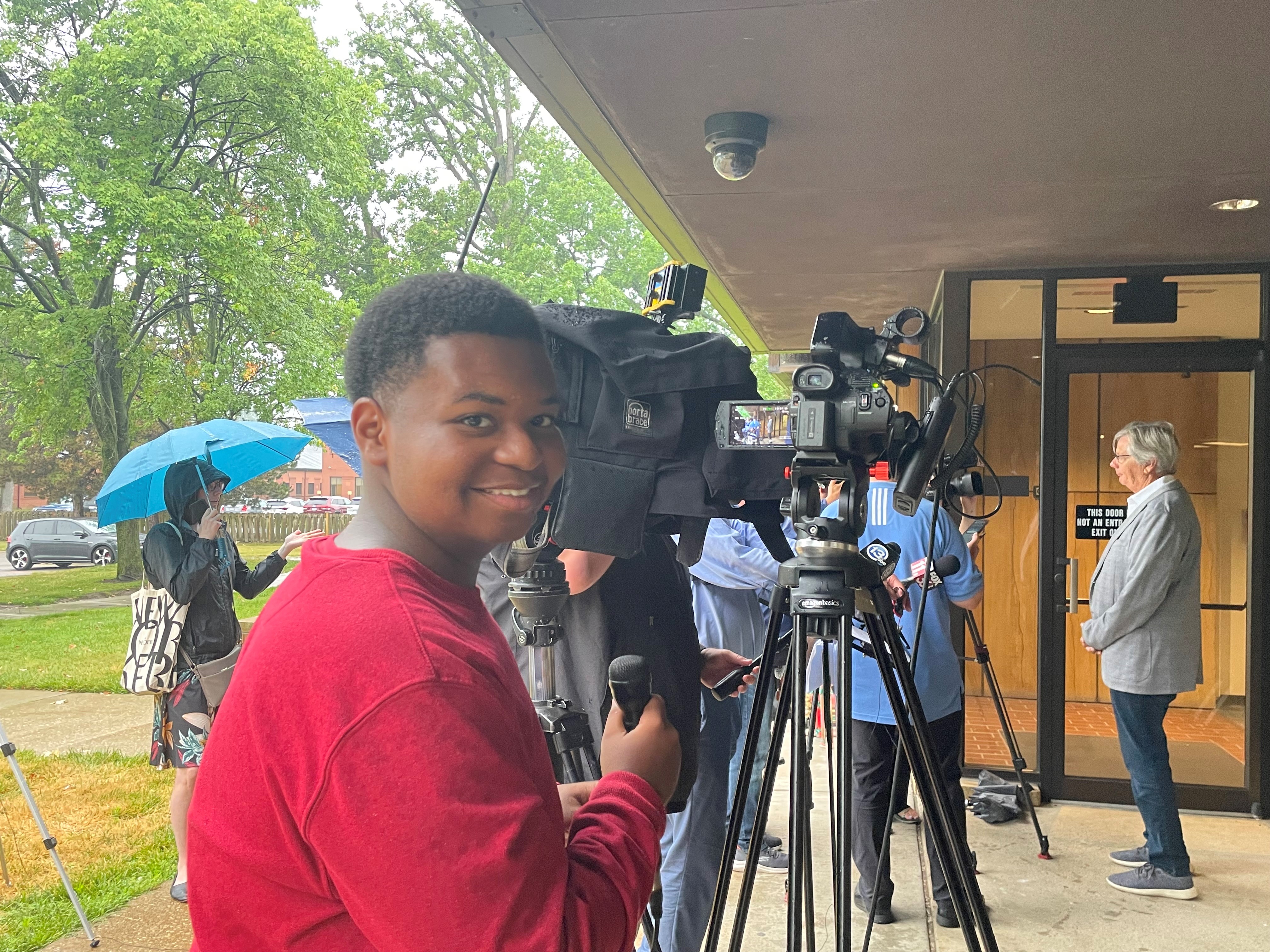 I will be rappelling 16 stories on Friday, September 9, 2022 to raise funds and awareness for The Victory Center!
I will start high school this fall at Maumee Valley Country Day School.

It was my exclusive interview with Senator Elizabeth Warren (D-Massachusetts) that gained National and International attention for me. I saw it as just another interview, the world saw something different. They saw a youth with a big personality, an innocent curiosity for the truth, and someone who is not afraid of asking the questions that others may want to ask, but are too unnerved to do so. I take what I do as a Multimedia Journalist, or as I likes to say, a MMJ, very serious when asking the questions to get to the truth. I've been seen on CNN at the Fox Theater with Brooke Baldwin during the Democratic Debates in July, 2019, MSNBC with Ari Melber, Fox News with Dana Perino, Univision, Now This, MTV, and the highlight of 2019 was my own segment that aired on CBS This Morning with Mola Lenghi, called "A More Perfect Union". I have been interviewed internationally by Radio New Zealand, Charles Adler Tonight (Canada), Owl Magazine (Canada), a newspaper article in "Zero Hora" written by Joao Praetzel from Brazil, plus I was highlighted in an article in the New York Times Kids section as a young journalist. I've interviewed Brad Pitt, Oprah Winfrey, and Naomi Osaka on The the Ellen Degeneres Show. I continue to be a part of and report on hometown events. I was present for the arrival of Air Force One and Air Force Two, carrying President Donald J. Trump and Vice President Mike Pence at the Toledo Express airport. This was an unforgettable moment in my journalism career. I have since been given the honor of being the youngest member of the Society of Professional Journalists. While working with the Smithsonian National Air and Space Museum in Washington, D.C., I was granted an interview with a former NASA astronaut and retired Air Force helicopter pilot, Colonel Alvin Drew. Since my previous television airings, I was featured as BET network's "Future 40", I had my own segment premiere on the LIVE with Kelly and Ryan morning show, highlighting New Yorkers and out of town guest on why they are either for or against "Daylight Saving Time". I also just recently did a Skype interview on LIVE with Kelly and Ryan on the protest for justice for George Floyd, police brutality, and Black Lives Matter. I interviewed with J.D. Durkin on Cheddar, a live streaming financial news network about my path to journalism. I have reached many by doing what I love to do, "reporting the news". I report the news, write my own stories, edit my own stories, and I post these stories to my YouTube channel, Facebook, Instagram, and Twitter, Jaden Reports. Whether it's hitting the beat with my grandmother, Gloria Allen, as my driver for local news stories, such as the Summer 2019 Mercy nurse's strike in Toledo or my mother, Lynnell Jefferson, driving me to interview Presidential candidates Senator Elizabeth Warren (D-Massachusetts) and Congressman Tim Ryan (D-Ohio), I see all stories as a chance to spread truth and to inform others. An interview obtained with a political figure of Ohio, my parents, James and Lynnell Jefferson had been my drivers to Cleveland, OH where I held a one on one interview with Mayor Frank G. Jackson (D-Cleveland, OH). I've interviewed Senator Sherrod Brown (D-OH) in Toledo during the General Motors strike and at the "Author! Author!" book series hosted by the Toledo Public Library, and of course, the Mayor of Toledo, OH, Wade Kapszukiewicz, whom I have interviewed on several occasions. I interviewed Ohio Governor Mike DeWine (R-OH) on his H2Ohio plans and his view on the impeachment of the President. I have received recognition from Toledo City Council-Toledo City Council Resolution, Certificate of Membership from the Press Club Of Toledo, the NAACP Freedom Fund Award, and honored by the Lucas County UMADAOP Federation with the Helen Postell Award. "The Helen Postell Award is presented to an African American youth who demonstrates excellence in community and academic achievement and role models a wholesome, drug free lifestyle exemplifying characteristics which support the mission of youth prevention." I want to encourage all youth to follow your dreams, take chances, and to step out on faith to pursue your calling.

Please consider making a donation to help fund FREE programs and services for newly diagnosed cancer patients, cancer survivors and their caregivers.

100% of funds raised will stay in our community.
jadenjeffersonreports@gmail.com