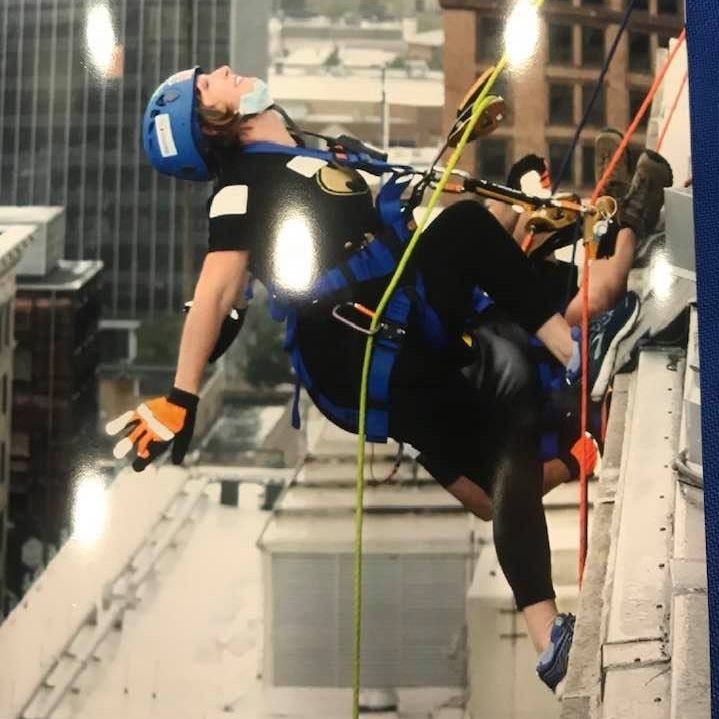 It's hard to believe this is the my fourth year of going Over the Edge for Victory!!! Rappelling 16 stories??? Four times??? If you had asked me five years ago, would I rappel down the side of a building FOUR times in as many years, I would've told you that you are out of your mind for even asking me that question...OF COURSE NOT.

But then...cancer happened, as it sometimes does, and my outlook on life and what it means to truly live it fully and wholly shifted dramatically. Mastectomy? Check. Chemo? Check. Radiation? Check. Rappelling 16 stories down the side of a building? Yeah, I got this.

Look, having breast cancer four years ago was not in my life plan--in the words of Monty Python, NO ONE EXPECTS THE SPANISH INQUISITION!--but I learned a lot about living in the moment, the importance of expressing endless gratitude for every little thing, and perseverance in the face of adversity. I also learned how incredibly loving and giving people can be when you really need them. Friends, families, neighbors, even total strangers reached out to show me and my family some love while I went through multiple surgeries, chemo, and radiation. The Victory Center was an important part of that support system, and remains so to this day.

I'm going Over the Edge for Victory a fourth time because I know how much it matters to have an organization in your corner while you're facing a cancer diagnosis and what can often be a difficult treatment plan. The uncertainty that follows a cancer diagnosis never goes away, by the way. It just doesn't. Which is why so many participants at TVC keep coming long after their treatment has ended.

Every year, hundreds of people walk through TVC's doors and find comfort, hope, support, and, yes, even laughter. They are able to find their way to wellness through FREE non-medical wellness services such as massage, facials, reiki, meditation, support groups, counseling, art therapy, exercise and nutrition classes and so much more. And TVC can only offer those programs and services through the generosity of donors like you!

Thank you for being a part of my journey. Thank you for support cancer patients, survivors and those closest to them through this amazing event. And thank you for making The Victory Center the premier cancer wellness center in the region. You are helping so many people find hope again. YOU, my friends, rock.