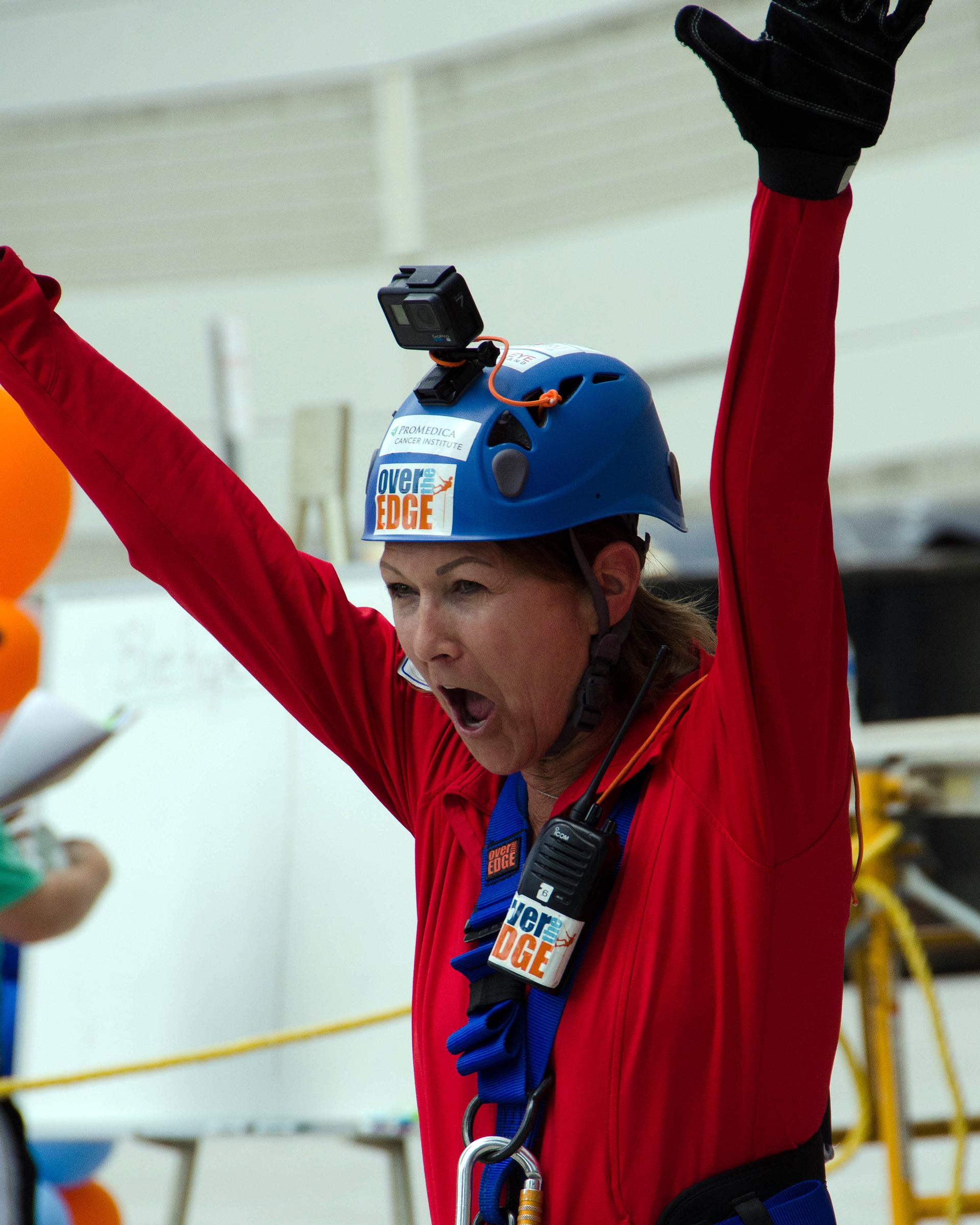 Frequently Asked Questions
Are there any age or weight restrictions for participating in Over the Edge for Victory?
Participants must be between 100 and 300 pounds.  Those under the age of 18 will have to have a parent or guardian sign a waiver at check-in.  Otherwise--ANYONE can go Over the Edge!
How long does the whole experience take?
From check-in to landing, the rappelling experience will last about 60-90 minutes.  First, you will check in and get your gear fitted.  Then you will go through the safety training before doing your actual rappel.  Finally, you will get photos and remove your gear.  Many people enjoy staying and watching the event either before or after the rappel.  There will be plenty to see and do!
What should I wear to rappel?
Sturdy, closed toe shoes are required.  Sneakers or hiking boots work best. You will be provided with helmets, harnesses and all the other rappelling equipment needed. We encourage you to show your support by wearing a team T-shirt or the Over the Edge for Victory T-shirt provided to you at the event.  All your pockets must be empty and loose items must be put away before you are fitted into your gear (i.e. no cell phones or money or wallets in your pockets).
Do I need to train or prepare?
No, it is not necessary to have any prior training or experience in order to rappel!
Is it safe to participate in this rappelling event?
Absolutely!  The Victory Center is partnering with a rappelling company called Over the Edge that adheres to strict National and State OSHA law with SPRAT and/or IRATA certified industrial rope access technicians.  Over the Edge has helped thousands of people around the world rappel safely!
What happens if it is raining on event day?
Typically, this event can operate safely in the rain. When rain, lightening or wind become extreme, the event will be delayed until the event personnel deems it safe.
How do I know what time I get to rappel?
The first step is to sign up online.  The second step is to proceed with your fundraising to raise the minimum of $1,000.  After you have achieved the $1,000 minimum, our staff will contact you to select a specific time slot sometime between 8 am and 5 pm on event day.  This will be done on a first-come, first-serve basis.
Can I bring my friends and family to the event?
Absolutely!  Please feel free to bring as many family and friends as you want!  They make great cheerleaders and spectators. Please note, only rappellers and staff are allowed in the building and on the roof.

What if I do not raise the entire $1,000?
We will be working with you every step of the way to make sure that every person who signs up is successful in raising the minimum.  We will provide you with fundraising ideas and tips all along the way.  You will also have the option to put any remaining deficit on your credit card so you can secure your rappel time.  If you do not make your goal, please understand that all registration fees and donations are non-refundable.  All dollars will go to support The Victory Center and the good work we do helping cancer patients!
Can I use a GoPro camera during my rappel?
One of our incentives to encourage people to raise more than the $1,000 minimum is that if you raise at least $1,500, we will provide you with a GoPro camera that is safely mounted on your helmet.  After you complete the rappel process, we will provide you with the footage of your rappel.  You will not be allowed to bring your own GoPro to the event, though family and friends can certainly record your experience from the ground.
Where do all the contributions go?
Every dollar raised at Over the Edge for Victory stays right here in our community!  The Victory Center is a local, grassroots organization that is completely privately funded.  We do not receive any government funding or health insurance reimbursements.  Therefore, every dollar raised helps us provide free programs and services to the cancer patients, survivors and family members in our community.
In light of the COVID-19 virus, what safety precautions are in place to safeguard rappellers?                                                                                        Rappellers' safety before, during, and following their rappel is always our foremost priority. Sanitary and social distancing protocols will be in keeping with State of Ohio guidelines. While Over the Edge has always maintained strict health and safety guidelines such as sanitizing equipment after each rappel and providing hand sanitizer for all stakeholders, additional measures will be taken. Some of these measures include:

The spacious grounds and designated registration and gear staging areas of The Plaza allow for safe social distancing to be practiced at all times for both rappellers and bystanders in accordance with Ohio laws.

A hand washing station, located adjacent to the spectator area, will be available for use by all friends, family and guests who are viewing the event.
For questions regarding the rappelling experience, contact Special Events Manager, Kimberly Newman at knewman@thevictorycenter.org